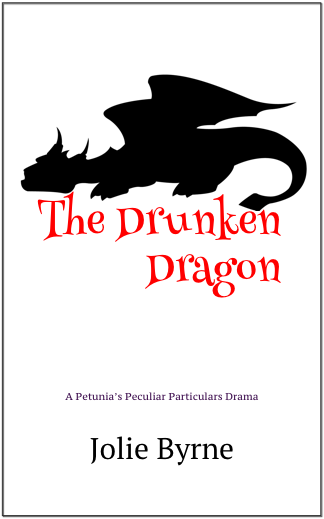 Publisher:

Bitter Brownie Books

Available in:

Watt Pad

Published:

December 15, 2016
Available on Watt Pad
It's not easy being a dragon with a drinking problem.
Elvis Jones has it rough. Alcholism is ruining his life. Elvis lost his job, his apartment and even his ability to control his shapeshifting. With no hoard to sustain him, Elvis is relegated to sleeping in homeless shelters and making deals with trolls so that he can sleep under bridges.
When he encounters the mysterious Petunia Petaluma, Elvis gets an opportunity to turn his life around. Petunia offers him the abilty to control his shapeshifting again by giving him a single gold coin in exchange for a valuable spell component. She wants one piece of dragon's gold. In order to create a piece of dragon's gold, Elvis just has to carry a gold coin for a week. The problem is, gold is valuable, especially when you're a dragon with a drinking problem and all you can think about is the next bottle.
In order to succeed, Elvis has to stay sober for one whole week and keep track of the coin. It seems easy enough, but this dragon drinks to forget. When confronted with his inner demons, Elvis gambles away the coin and is left with the worst possible option to complete his deal with Petunia.
The only way to solve the problem is to find a piece of dragon's gold. That means he has to ask the only other dragon in town for help. The problem is that Grattax has a grudge against Elvis. Elvis isn't sure that he can convince him to give him a piece of his trove. With the help of a couple of very clever dwarves, Elvis might be able to find the change he was looking for.
The Drunken Dragon is a free read. It's available only on Watt Pad.