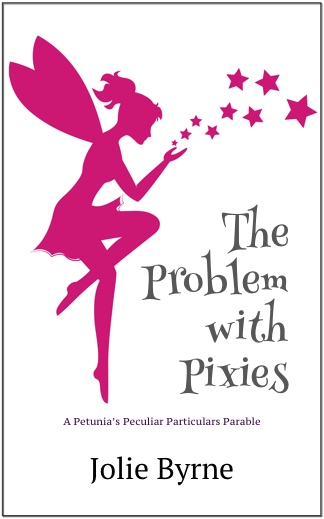 Pixies
Free
Publisher:

Bitter Brownie Books

Editor:

Casa Cielo Editing

Available in:

Watt Pad

Published:

March 25, 2016
Read on Watt Pad
Maven Alexander wants to be normal, but being normal isn't easy when you're the only half-pixie attending an all human high school. Cotton candy pink hair stands out. Her only chance to get out of the human school, is for her pixie half to take over. If it does, she can go live with her Dad among the pixies. The problem is that the pixies won't allow her to live with her Dad unless it's proven that she has magical powers. So far, that hasn't happened and at 16 years old, Maven is starting to lose hope.
Afraid she'll be stuck living as a human forever, Maven tries very hard to fit in. Things don't seem to be going her way. In order to avoid getting picked on on the bus, Maven decides to walk to school in the snow. On the way there, she wanders into a curious little shop called "Petunia's Peculiar Particulars." She meets the mysterious proprietress, Petunia and finds a magic ring that the Petunia says will help her in a time of great need. Unsure if she believes the story, Maven decides to give the ring to her mother as a gift for her birthday and puts it on her finger so she won't lose it.
That's when things start to get weird. Maven goes to school and on her way there, she charms her ex-boyfriend's brother into giving her fifty bucks, without meaning to. And then the guy she's been crushing on dumps his girlfriend in the middle of the school cafeteria and suddenly starts following her around and all sorts of things start to go wrong.
Maven looks to the ring for help, but the magic of the ring is subtle. Did Maven just buy her salvation, or did she just get ripped off?
Find out in "The Problem with Pixies!" The first installment in the "Petunia's Peculiar Particulars" series, exclusively available on Watt Pad as ad supported reads.