My friend Mirren Hogan is celebrating the release of her new book Night Witches!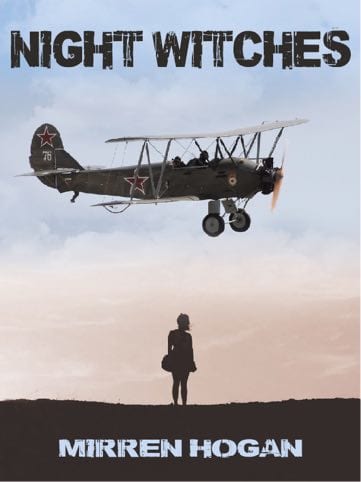 Here's a bunch of things you probably didn't know about her.
Do you like cheese? Way too much.
What was the last book you read? Calamity by Brandon Sanderson.
What is your favourite flavour of ice cream? Chocolate. What else is there? Lol
What is your favourite movie? Back to the Future.
Tea or coffee? Tea.
Where's your favourite place to write? On the couch.
What are your hobbies? Walking he dog, reading.
Which book/s have influenced you the most? All of them. Every book has something offer, including ones I didn't like.
What is your pet's name? Bear, Lila, Cosmo… too many more to name.
Name 4 foods you eat regularly? Cheese, chocolate, pizza, toasted cheese sandwiches.
Favourite place to be? Home
Where would you like to go? Home? Lol
Favourite TV show? Anything DC or home reno.
Do you own slippers? Yes, they're very un-sexy.
Can you whistle? Yes.
What is your favourite colour? Blue.
Who is your favourite author? I have too many to name.
Would you be a pirate? No, I'm a dragon.
Last thing/person that made you laugh? My dog.
Where would you love to live? My house!
What book are you reading at the moment?  JD Franx's Legacy.
Favourite month? I don't really have one.
Author bio: Mirren Hogan lives in NSW Australia with her husband, two daughters, dog, cat, rabbits and countless birds. She has a Bachelor of Arts (English/ history), a Graduate Diploma of Arts (writing) and a couple of degrees in education. She writes fantasy, urban fantasy and science fiction. Her debut novel —Crimson Fire— was released by The Dragon's Rocketship Publishing in October 2016, with more to come. These include a trilogy co-authored by Erin Yoshikawa. She's also had several short stories published and has co-edited two charity anthologies; for breast cancer research and Plan Australia.
Mirren Hogan's author page: https://www.facebook.com/MirrenHoganAuthor/?ref=bookmarks