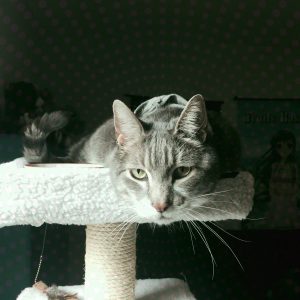 Three years ago, my daughter called me and said, "Mom, I'm at the shelter and there's this cat and I want to get him. He's old and they say he won't make it out of the shelter if I don't adopt him today."
I had been expecting that phone call for a few months. I knew that it was coming after she turned eighteen.
When the girl was younger, we had a cat. We have always had dogs. I am a crazy dog lady, after all. My daughter never really understood the dog thing. I got that. I knew from the moment she was born that she was a crazy cat lady. Our cat slept in her crib with her. He guarded her from evil home invaders even before I knew I was pregnant with her. They had 11 wonderful years together when illness took Fuzzy from us. Fuzzy was the only cat I ever owned. I was so heart broken when he died, that I vowed I would never have another cat.
And then this phone call happened.
I said to my daughter, "Let's talk about it with Dad over dinner. Do you want me to come put an adoption hold on him for you?" She told me they would not let her. I said, "Well, we have to talk to Dad first." I insisted that we talk to my husband first several more times and finally she agreed and hung up the phone.
A while later, I received a text from her. "Please don't kill" was all that it said.
I immediately called her and shouted into the phone, "DID YOU JUST ADOPT A CAT?!"
A small voice on the other end of the line said, "They were going to put him down! I couldn't do it, Mom! I couldn't leave him there!"
She begged. She pleaded. She reasoned. As we discussed the matter, I recalled a similar adoption. An eleventh hour sort of deal, where the owner's wife was discussing putting down a perfectly healthy eleven year old dog due to her age and their inability to find someone willing to adopt a dog that old. The person they found to adopt her was me. The dog in question was laying with her head on my foot while I had this conversation with my daughter. It was obvious to me where her huge heart came from. So, Porter joined the family on February 3, 2014.
Porter was a scrapper, that much was obvious from looking at the scars all over his ears and the bald spot on his nose. Our vet told us that Porter was old, but she wasn't comfortable saying he was any younger than ten, and said he could be much older. He came to us with a wound on his shoulder that was still healing. It took us almost two months to get it to heal completely. The vet told us it was from a fight, probably with another male cat. When I told her Porter was going to be living the indoor life, she said, "This guy hit the jackpot!"
I like to think that he did.
Over the next three years, we spent many hours teasing our daughter. "Remember that time you brought home a cat and we told you we didn't want one?" It was good natured ribbing and she knew it. Porter was absolutely perfect. My husband became attached to Porter in the afternoons when they would sit in his office and claim to be watching an episode of "Eureka" while taking a nap. My son fell in love with Porter when he stole his laffy taffy. I fell in love with him when I said, "Hello, Mr. MacGillikitty" and he said, "Meow" right back. I mean, how does an animal lover not love a cat that holds such fascinating conversation?
My daughter loved him from the day she brought him home. His spirit called to hers. They say the heart knows what it wants, and certainly Porter was everything my daughter needed. He saw her through two very bad breakups with boyfriends. He helped her get through most of her college degree, particularly those really tough final exams, when I was fairly sure the kid's brain was going to explode.
Porter became the hero of our home when my son brought mice into the house from a friend's place. I do NOT use baits or poisons on rodent infestations, period. I had an exterminator tell me that it was the only way to get rid of them. I agreed to put out old school traps and go from there. Porter decapitated every one of those disease carrying rodents and left them out as offerings to my daughter, his one true goddess.
From that day forward, I referred to Porter as "Mr. Meowgi" because of his mad mouse hunting skills.
Time went on. We enjoyed Porter every day, I think he enjoyed us too. He enjoyed hunting the cat toys my daughter made for him. He went through a couple of health issues, but really nothing too taxing for an older cat. Through it all, he has been an absolute perfect resident in our home, except for this one tiny thing…
Jet, our insanely high strung black Lab, will never understand the fearsome thing of awe and wonder that is a cat in his full glory. Jet just thinks they are something to chase. Porter, being a very intelligent and educated cat, made great use of this knowledge for the sake of his own entertainment. Oh, it made me crazy and I was never really able to fix it.
That was how I knew something was wrong. Porter didn't bait Jet for almost a week. He stopped eating. Had trouble going to the bathroom. We went to the vet. The news wasn't good.
When I realized what I was hearing, I looked at my daughter, who didn't seem to understand. I asked the vet to let us call them in the morning. On the car ride home, I told her. It was bad and there was nothing they could do. Porter has a weak heart to begin with and his heart did not sound good. I asked her what she wanted to do. Later that day, she asked me to make the phone call that no pet owner wants to make.
She spent the next day loving him and soaking up every last moment with him. He let us know, in his way, that he was ready to leave us behind, but that he was also treasuring these moments with the girl he loved best in the world.
As I write this, my daughter is asleep on the couch. She couldn't even look at her bedroom after we got home last night. When I went downstairs to turn out the lights for her, I understood why. Porter was everywhere in that room, absolutely everywhere. I felt his presence so strongly that I quickly shut off the lights and walked out before the tears could take over again.
There has never been and will never be a better cat. Run free, Mr. Meowgi. I have been informed that there are multiple cats for you to play with at Rainbow Bridge and plenty of birds for you to watch from a prime vantage point in a tree.
Until we meet again, Mr. Meowgi… we love you.